Skyrockets In Flight Blog Hop Delight
WIN, WIN, WIN!
And the Winners Are:
shadow_kohler(at)att(dot)net
throuthehaze at gmail dot com
twentywithoutmoney (at) ymail (dot) com
Be on the look out for my email! Enjoy You Prizes Ladies!!!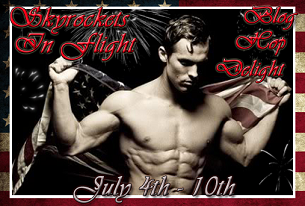 What – Skyrockets In Flight Blog Hop Delight
When – 12:01 AM July 4th until 11:59 PM July 10th
Where – All around the blogging world!
Welcome everyone, old and new visitors. I am so pleased to announce that I will be participating in the Skyrockets In Flight Blog Hop Delight this July! I know my blog is fairly new but what better way to encourage people to visit that by joining up with others. I encourage everyone who does stop by to please take a look around and leave a comment on any of my posts!
Since this is my first giveaway, I don't have any ARC's to offer you but what I do have are 3 gift cards to Barnes & Noble, Starbucks, or Amazon. I can only ship in the US (sorry I'm in the process of moving and should think economically) however, next time I am certain that I will be able to accommodate my international participants.
All you have to do to win is simply:
1) Follow me on Twitter (I do follow back)
2) Subscribe to my blog either via RSS or email
3) And leave a comment on this post introducing yourself, along with your email in the format: MYNAME at GOOGLE dot COM
I don't think that is too bad, right? I'm sending a SUPER BIG THANK YOU to everyone who participates in advance! If you have any questions or early comments, please don't hesitate to send me a message via the contact form (link at top of blog). You can find the other participants at the links below! Good luck!!
Please note all winners will be chosen at random.