NEW! Coveted 12-Piece Mini Polish Gift With Purchase | #Julep Beauty Box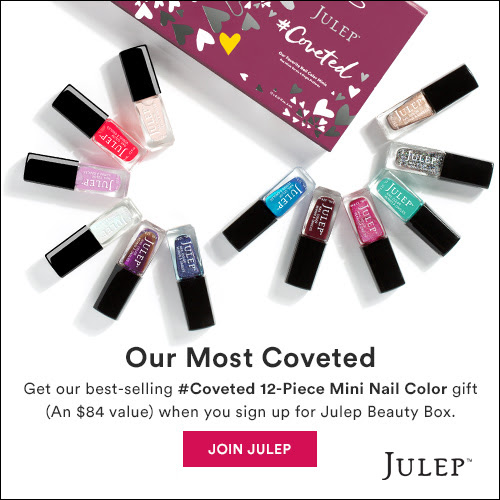 Need your next nail polish fix? Of course, you do! Don't worry ladies, I've got you covered.
Get Julep's best-selling Coveted 12-Piece Mini Nail Gift when you join Julep Beauty Box today. Featuring twelve of Julep's most-loved nail colors in a limited-edition, artist-series gift box, you can get this amazing set just by signing up. An $84 value. Saaaay what? Yup, an $84 value for completely free with your subscription.

To redeem your Coveted 12-Piece Mini Nail Gift, add the gift to cart and use code GIFTCOVETat checkout.

After you join Julep, you'll get a box of gorgeous and good-for-you beauty, nail, or skin care products delivered to your door every month. Julep offers the only full-size and fully-customizable beauty box out there, so you get what you want every month!

Get your FREE Mini Nail Gift today by using promo code GIFTCOVET when you pay for your first month of Julep ($24.99).


Want to see more Subscription Boxes? Check out our reviews of some of the best boxes around and ask me how you can get a coupon code!

This post contains affiliate links and may generate a small income. Thank you for your support!